College Bowl Game Challenge
Make your picks today with our College Bowl Game Challenge and you could win $500 cash from B&B Pawn and your friends at Alabama's Country Giant, WQSB, Power-107.5 and Mix-102.9.
---
WQSB - Show Us Your Whitetail 2017-2018
Show Us Your Whitetail 2017-2018
CONTEST: SHOW US YOUR WHITETAIL CONTEST
PRIZE: $100 GIFT CARD
START DATE: 10-23-2017
END DATE: 1-30-2018
HOW TO PLAY: Go to WQSB.com and upload a Deer Hunting Photo through the contest engine. Each photo will qualify you to win a $100 Gift Card. Each Wednesday Via a random draw, 1 person wins a $100 Gift Card from one of our Show Us Your Whitetail Sponsors. Each winner can win only 1 time each 2 weeks during the length of the contest. 1st winner will be on Nov. 1st. There is no voting in this contest. Winners are a random draw from all entries entered.
For a full list of rules for this contest please click on the above contest link and see "Rules" option within the contest.
INELIGIBLE: Employees and immediate family members of WQSB, and Show Us Your Whitetail Contest Sponsors are ineligible to play.

Sponsored By: 
Attala Ace Hardware
Sand Mountain Pawn, Sardis
Ed's Express Lube, Downtown Albertville
Kaysie Black – Allstate, Rainsville
Bruce's Foodland Stores
Builders Supply, Fort Payne
Wagon Wheel Boots, Arab
Campers Unlimited, Attala
Cycle World, Gadsden
Lake Guntersville Power Sports
Week #1 Winner: Johnathan Kirtland of Fort Payne
Week #2 Winner: Billy Hutt of Gadsden
Week #3 Winner: Lexie Lee of Albertville
Week #4 Winner: Trevor Henderson of Fort Payne
Week #5 Winner: Chris Anderson of Albertville
Week #6 Winner: Michael Mccrary
Week #7 Winner: Brock Stewart of  Southside
Week #8 Winner: Christian Arnold
Week #9 Winner: Shey Clements
Week #10 Winner: Molly Jordan
Week #11 Winner: Tyler Kilgo
Week #12 Winner: Shane Dean of Attalla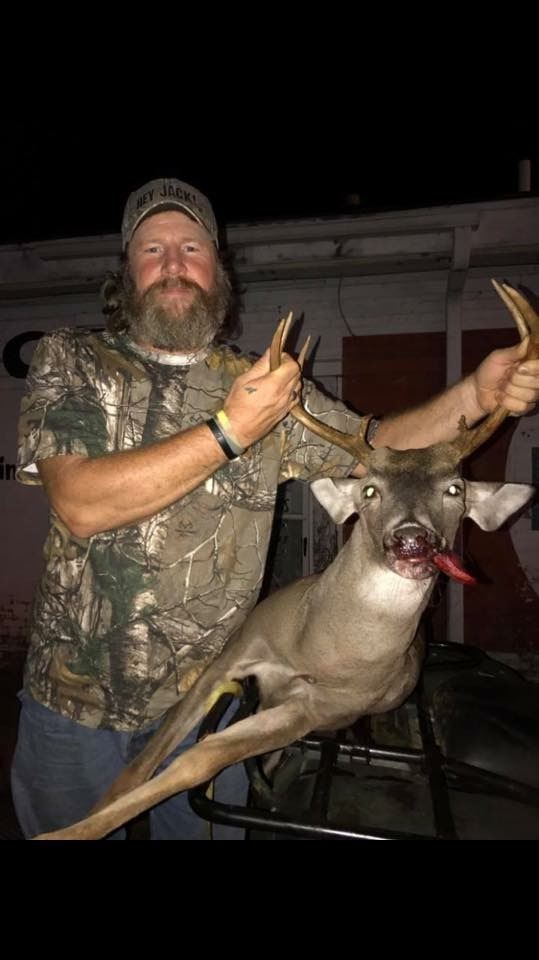 ---
2017-2018 Teacher of the Week
Do you know of a teacher that has gone over and beyond for their students? If so, send their name, photo (if available), school/class they teach and what they have done to barry@wqsb.com.  One teacher each week will be chosen at random to win $100 for their classroom. Don't wait, nominate your teacher TODAY! 🙂
Modern Woodmen of America, one of the nation's largest fraternal financial services providers, is looking for self-motivated individuals with or without sales experience in  your area. Call Modern Woodmen Financial Representative Morgan Lavender at 256-492-3374.
A Financial Services, Inc.  a wholly owned subsidiary of Modern Woodmen of America, 1701 1st  Ave., Rock Island, IL 61201 309-558-3100 Member: FINRA, SIPC.
 RULES: 
Nominate you favorite teacher to be recognized as our Teacher Of The Week by submitting their name, school and grade thru the link provided on any of our station's web pages.
Any teacher, instructor or principal currently employed in a public, private or religious school is eligible to be nominated for this contest.
Each week a person will be chosen to acknowledge as our "Teacher Of The Week".
Each "Teacher of The Week" selected will receive a check in the amount of $100 to off-set classroom expenses.
Entries not yet selected as "Teacher of The Week" will remain in consideration for the duration of this contest.
This is a multi-station contest with one weekly winner airing on WQSB, Power-107.5 and Mix-102.9.
Week #1 – Becky Walker – Douglas High School
Week #2 – Jennifer Golden – Ivalee Elementary School
Week #3 – Brittney Owens – Fort Payne High School
Week #4 – Amanda Harkins – Centre Middle School
Week #5 – Tracy Rogers – Albertville Elementary School
Week #6 – Katherine Barnes – Striplin Elementary School in Gadsden
Week #7 – Staci Mason – Ruhama Junior High School
Week #8 – Dwayne Gregg – Cedar Bluff School
Week #9 – Brandon Shelton – Guntersville Middle School
Week #10 – Hannah Brooks – Geraldine Elementary School
Week #11 – Kaylee Ward – Spring Garden High School
Week #12 – Brandi Jones – Arab Elementary School
Week #13 – Jason Russell – Southside High School
Week #14 – Michelle Bates – Odenville Intermediate School
Week #15 – Jessica Horton – Cornerstone Christian Academy – Rainsville
Week #16 – Ashley Veal – Boaz Intermediate School
---
First Responders of the Week
CONTEST: WQSB, POWER 1075FM & MIX 102.9 1ST RESPONDERS OF THE WEEK
Sponsored by People's Independent Bank 
PRIZE: $100 CHECK
HOW TO PLAY: Go to wqsb.com, wkxx.com or power1075fm.com and click on the First Responder Link. You can nominate a First Responder Unit or Department to win a check for $100. Each week a First Responder Unit will be chosen and the Unit or Department will receive the check for $100
INELIGIBLE: Employees and immediate family members of WQSB, MIX 102.9, POWER 1-07.5 FM and Sand Mt. Broadcasting are not eligible to win.
Week #1: Hokes Bluff Fire Department
Week #2: Grove Oak Volunteer Fire Department
Week #3: Summit Volunteer Fire Department in Blount County
---
WQSB Trivia Question of the Day
Be listening each morning, Monday – Friday at 8:20 am for the WQSB Trivia Question of the Day! The right caller with the correct answer wins 2 Popeye's chicken breakfast biscuit coupons.
Contest Lines: 256-878-8000 or 1-800-233-1051
CONTEST: WQSB TRIVIA QUESTION OF THE DAY
PRIZE: 2 POPEYE'S CHICKEN BREAKFAST BISCUIT COUPONS
START DATE: 9-21-2015
END DATE: TFN
HOW TO PLAY: WQSB will read a Trivia Question at 8:20AM each weekday morning. WQSB will give the 10th caller a chance to answer the Question. A correct answer will win the Caller the Trivia Prize. If there is an incorrect answer, WQSB will take additional callers for 2 minutes. If no one correctly answers the question, WQSB will stop taking calls and repeat the question the following work day.
INELIGIBLE: Employees and immediate family members of WQSB and Popeye's are not eligible to play. 1 winner per family per 14 day period.
---